The ninth edition of the Malta National Folk Singing (Ghana) Festival takes place this weekend from 26-28 May at Argotti Gardens. Seven Maltese folk groups of improvisers, ballad singers, high-pitched singers, and folk musicians are participating, led by Zeppi Ellul, Joe Grech, Rita Pace, Jason Seguna, Kevin Spagnol, Zeppi Spagnol, and Danny Vella.
Guitarist Tony Pace presents his talents on Sunday. He started his love affair with the guitar when he was fifteen years of age, at a time when the world was still rocking to The Beatles and The Rolling Stones. He was always passionate about creating musical sounds and throughout his childhood he was often playing with several musical instruments including the mouth organ. During the 1970s Pace was attracted to the classical side of the instrument and taught himself how to play classical guitar. After a while he got a sponsorship from the Maltese and Austrian government to study under the American guitarist Gregory Bonneberger. He also attended several summer courses in England with leading classical guitarists such as Chris Kilvington, John Dwarte and Alirio Diaz. In 1971 Pace joined the AFM (Armed Forces of Malta) band, playing both the guitar and flute.
Foreign talents
Four Mediterranean groups from Libya, Tunisia, Ragusa and Valenzia will be presenting their folk songs. The Spanish group from Valencia "L´Ham de Foc" has had different formations which reflect its members' desire to explore musical territories previously less touched. During the 1998 spring they were selected by the INJUVE, the Spanish Youth Institute, to go on a tour throughout Spain. Soon afterwards they recorded their first album, entitled "U" (meaning "one" in Catalan) in studio with the Madrid based company Sonifolk, and was released in 1999. This album was regarded as one of the best albums of the year by different radio programmes and was distributed in Spain, France, Holland, Belgium and Greece, where it obtained very good reviews. It was also presented in music festivals in Spain and Portugal. In August 2001 they recorded their second album "Cançó de Dona i Home" (Woman and Man's Song).
The Libyan Shuhada Abomaliana Group for Malouf and Terza Rima was formed in 1994. Since then it has worked hard to achieve its goals, mainly the preservation and reinterpretation of Libyan cultural heritage in the field of Malouf and Terza Rima, thus passing on a rich heritage from generation to another. It is the first time that the Libyan Terza Rima has presented echoes, melody and performance by a pioneering group. In spite of its short history the group has recorded its first compact disk, including several Malouf.
The project "Nuovo Canzoniere Ibleo" presents "Comu veni si cunta". Originally it was the idea of Dario Adamo to project an artistic reinterpretation of Ragusan folk song and music, thus strengthening the rich ethnic culture of the Ragusan community within and beyond the shores of Sicily. This activity presupposes a multi-ethnic society, while respecting the local cultural roots of Ragusa.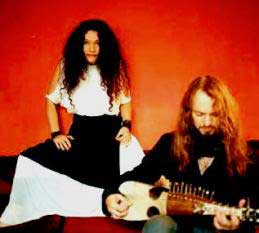 The Spanish group from Valencia "L-Ham de Foc"
Cikku Degiorgio Tal-Fjuri singing his ballad "Gorgi tal-Buskett". © E. Aquilina and G. Mifsud-Chircop
The Taddariti Group, artistic director Dr Arturo Mingardi, has been performing since 2000 through the cultural association with local bodies in the Provincia di Ragusa and Syracuse. Its members have organized teaching concerts in the schools of Ragusa. They have also been invited to perform in various Sicilian festivals and other cultural activities.
Admission tickets are available from The Malta Council for Culture and the Arts at 230 Republic Street, Valletta, Tel: 21 245 168 (opening hours from 08:00 to 16:00), or from St James Cavalier Centre for Creativity, Valletta Tel: 21 223 291 or at the door prior to the performance. The price of tickets is Lm1 for each evening. A three-day ticket for the price of Lm4 will also include a free double album cd of the National Folk Singing Festival 2005.
First published on 22nd May, 2006 by The Malta Council for Culture and the Arts.